In order to prepare a basic schedule, you must first do so-called work shifts, which you then use when creating the basic schedule itself.
Press Planning and then Tasks. Then choose the cost centre to place your work shifts in. Click on + New.

Name your shift in Description , e.g. "Administration 8:00-17:00"
Abbreviation can be, for example, "8-17"
At Default break rule, choose among (no break), half hour or full hour. This is a calculation aid to allow you to easily see the total number of hours of the shift without any employee being connected to it.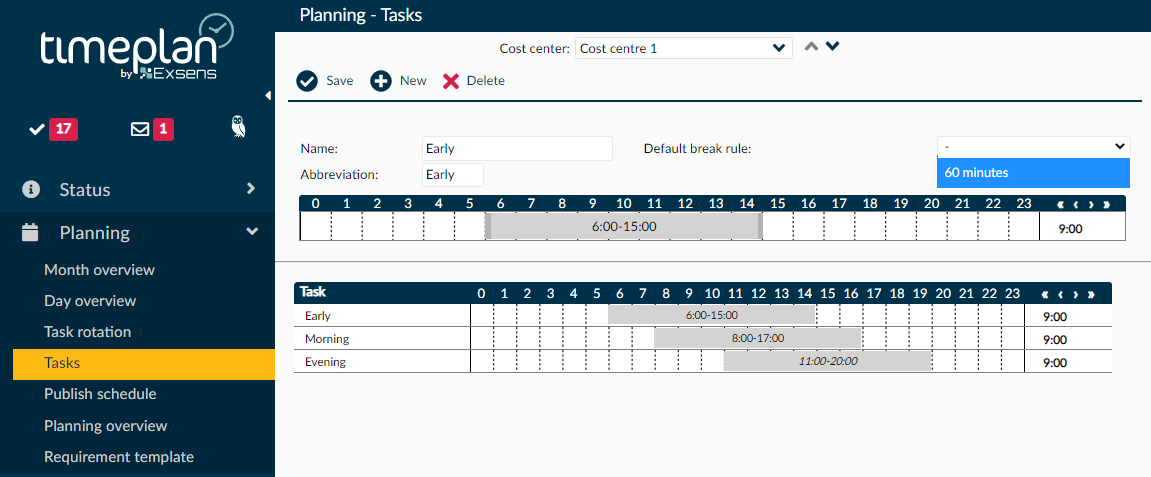 To drag a shift as in the example above, place the mouse pointer on 8, click with the mouse and drag the shift to 17: 00. If you need to adjust the time, you can double-click on the shift itself and enter the time you want in your work shift.
Click on Save.
To set up on-call duty or overtime shift, follow the same procedure. Drag a shift, double-click on the task and select on-call duty or overtime from the drop-down menu under Type. Press Save.
To make configure the settings of your shift, double-click on it. You can choose to steer away breaks or cost deductions on the shift. However, the settings you make to the shift apply to the settings in the employee's agreement so be careful not to steer away too many things as it easily causes problems. If you choose to change something in the shift, take the habit of naming the shift to something where this change is evident, for example: "8:00-17:00 Emergency".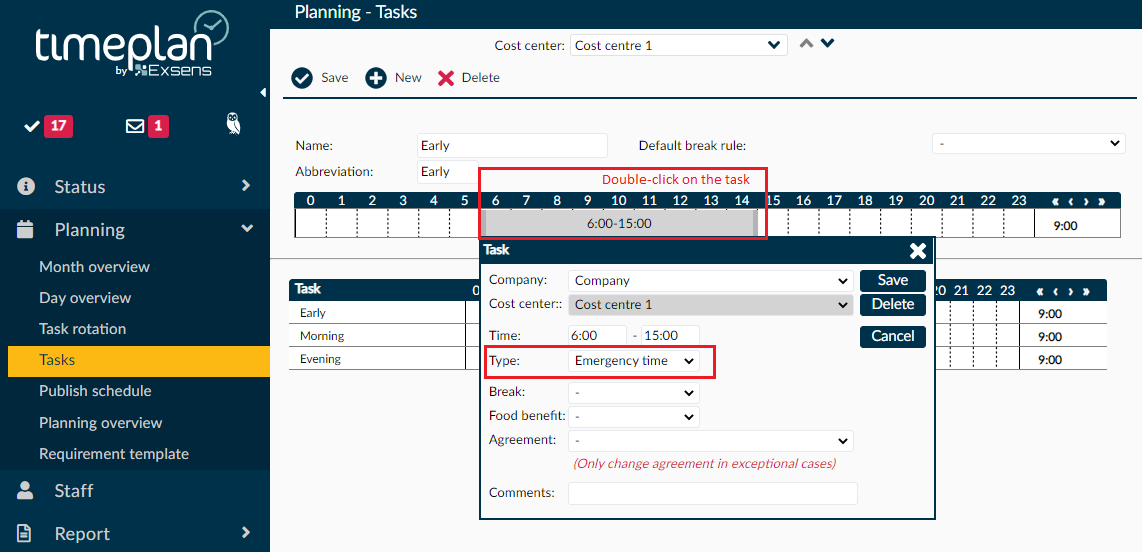 Once you have saved the task, a red text will appear saying Arbetspasset ingår inte i något grundschema eller i någon behovsmall (The work shift is not included in any basic schedule or in any needs template). The text will remain there until the shift is used in a basic schedule.
To make additional shifts, press New+ and then follow the same procedure as above. Continue to do the work shifts needed to create your basic schedule.
All saved work shifts are collected under the row where you set up the shifts, arranged by start time.